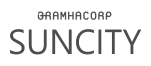 A NEW DAWN. OF LIMITLESS POSSIBILITIES
You can now embrace a world-class living experience in Pune's most futuristic residential project - Brahma SunCity. It is beautifully set in the heart of the cosmopolitan, posh neighbourhood Kalyani Nagar, which is accessible via Koregaon Park and Nagar Road. The restaurants, shopping malls, multiplex theatres and schools are all within reach, fulfilling every aspect of your life.
Luxuriate in the array of every imaginable amenity and service you could desire. We ensure you are provided with special, exclusive facilities that are designed to make your life so much simpler and easier.